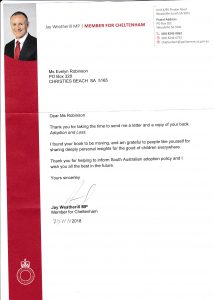 On the 30th of November, Evelyn received a letter from Jay Weatherill, MP, who was the Premier of South Australia in 2012, when the state apologised for past adoptions. Premier Weatherill had invited Evelyn to meet with him in his office prior to the apology and consulted with her on its wording. He expressed a thoughtful and concerned interest in her experience of adoption loss and in her views on a future without adoption.
In November, 2018, after completing the 21st century edition of her first book, Adoption and Loss – The Hidden Grief, Evelyn sent a copy as a gift to Mr Weatherill. This letter was his response to receiving and reading the book. He wrote:
Thank you for taking the time to send me a letter and a copy of your book, Adoption and Loss.
I found your book to be moving, and am grateful to people like yourself for sharing deeply personal insights for the good of children everywhere.
Thank  you for helping to inform South Australian adoption policy and I wish you all the best in the future.